We are proud to join with Clinical Partners to present these FREE webinars, designed to help families with autistic children, that will help us work towards our vision of 'Sharing best evidence, improving practice'.
This is the fourth 'OpenHouse on Autism' event, do please register for our other FREE webinars on autism.
In this webinar, host Dr. Lucy Sanctuary, Autism Specialist with Clinical Partners, was joined by Clinical Psychologists Dr. Ann Ozsivadjian and Dr. Marianna Murin to discover practical ways to address challenges around difficult emotional behaviours.
Your host
Dr. Lucy Sanctuary is a specialist Speech & Language Therapist and Cognitive Behaviour Practitioner (CBT) working with families, children and young people who are on the Autism Spectrum. Lucy has considerable experience of carrying out autism assessments for children and young people from the age of two to 20, and works with young people with complex presentations such as learning difficulties, high levels of anxiety, selective mutism and behaviour difficulties.
Our expert speakers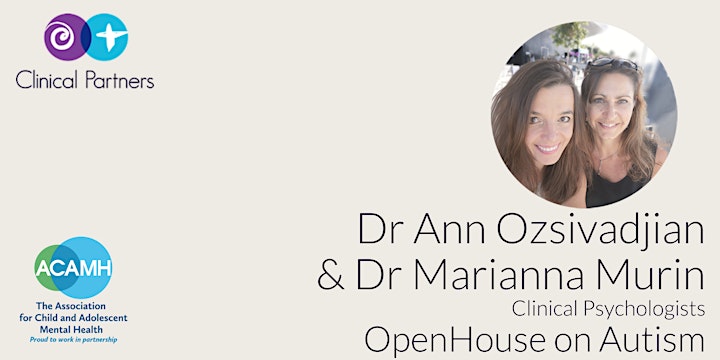 Dr. Ann Ozsivadjian is the Principal Clinical Psychologist at Evelina London Children's Hospital, Guy's and Thomas' NHS Foundation Trust. She is a leading expert in the assessment and treatment of mental health difficulties in ASD, in understanding cognitive pathways to anxiety in ASD, and also working with girls and women on the autism spectrum.
Dr. Marianna Murin is a Chartered Clinical Psychologist and Senior Clinical Tutor at the Anna Freud Centre and University College London. For over twenty years, she has dedicated her work to promoting the psychological well-being of people on the Autism Spectrum and improving understanding of ASD as an international trainer in diagnostics of ASD, lecturer, writer and therapist.